| | |
| --- | --- |
| Posted by Iesha Marie on March 18, 2020 at 10:50 PM | |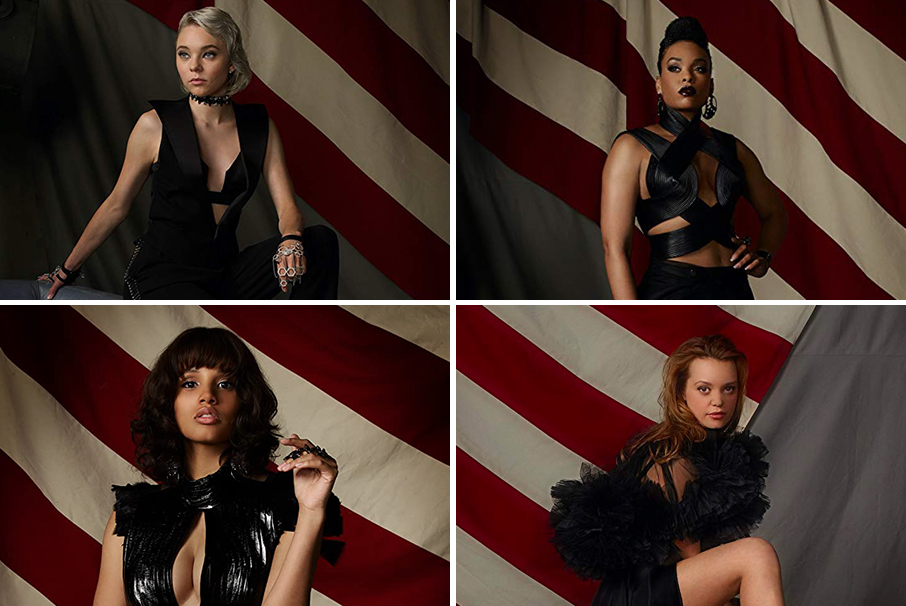 Clockwise from top left: Taylor Hickson, Demetria McKinney, Jessica Sutton, Ashley Nicole Williams
(photos © 2019 Disney Enterprises, Inc.)
This week's Geek Girl Riot is witchy & wonderful. We're talking all things Motherland: Fort Salem with the show's stars Taylor Hickson, Demetria McKinney, Jessica Sutton, and Ashley Nicole Williams!
Motherland: Fort Salem is debuting on Freeform tonight at 9pm ET and we're about to get you powered up and ready to rise up with the the witchy warriors of the American Military. Sherin and Alex give you a rundown of the upcoming series, which imagines an alternate history America as a matriarchal society with militarized witches protecting the nation. This series is so layered and multi-faceted that you'll want to get a first taste right here, with our Rioters to ease you in.
What's more, you'll get to hear from the stars of the show! First Sherin chats with Taylor Hickson, who plays Raelle Collar – the rebel healer of the group. Taylor will tell you all about the show's feminism, diversity, and worldbuilding. Then it's time to stand to attention because Demetria McKinney stops by to talk about her formidable character: Drill Sergeant Anacostia Quartermain. She'll also fill you in on Motherland's work, which is this world's word for magic. Oh, AND you'll get to hear Demetria sing (it is glorious).
Jessica Sutton is up next to introduce her character of Tally Craven, a country girl who believes in the good of the army. She's also an incredibly powerful witch, a "knower", and a walking exclamation mark. Yup. Jessica digs into the wide-ranging themes of the series too. Finally Ashley Nicole Williams joins the show to talk about the rich history of Motherland and her queen bee character of Abigail Bellweather – the leader – who is not to be messed with (and we love her for it).
Stay tuned to hear some teasers from the cast about what they're most excited for you to see and…
Article/Audio by: Alex Bear