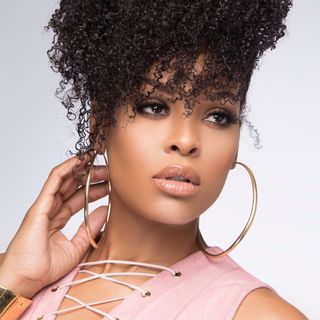 The multi-talented Demetria McKinney from FREEFORM much anticipated new series, "MOTHERLAND: Fort Salem," who plays 'Anacostia' – an articulate, tough and smart sergeant, whose sole focus is keeping the young recruits alive through their basic training. The show is set to debut in March 18th, 2020. Set in an alternate America where witches ended their persecution 300 years ago by cutting a deal with the U.S. government to fight for their country, Motherland: Fort Salem follow these young women from basic training in combat magic into early deployment. In this world, the traditional roles of gender and power are flipped, with the more dominant women on the front lines fighting looming terrorist threats that are familiar to our world — but with supernatural tactics and weapons. The series not only stars Demetria, but talents like, Taylor Hickson, Ashley Nicole, Amalia Holm and many others.
Demetria, a triple threat in the truest sense of the term, a vocal powerhouse, an award-winning actress, a skillful songwriter and a trend setter. Demetria has played many diverse roles on both the big and small screen. She is showing us why she is making her mark on your TV screens, in movie theaters and on stage. She is also concurrently recurring on BounceTV's, "Saints & Sinners" and "A House Divided" for UMC. You may also recognize McKinney from her role as 'Janine Payne' on the hit TBS sitcom "Tyler Perry's House of Payne", which produced over 250 episodes and received five NAACP Image Awards for Best Sitcom. The show now airs in syndication on BET Networks.
From Albuquerque, New Mexico to a Military family, Demetria has lived all over the world and was given a drive that resembled that of her parents growing up. Her work ethic, way of life and how she sees life is that of her relationships with her family. Finding an interest in theater since she was little, Demetria decided to go to Okaloosa Walton Community College to study theater, where she took part in different theatrical plays outside and inside the college circuit. However, she didn't finish her degree because other opportunities came calling her name, one being Mr. Tyler Perry. Mr. Perry discovered her in a play that was touring called, "The Woman I am Today," which she will say "kick started" her career.
McKinney also worked with Tyler on his stage play, "Meet the Browns" and went on to star in several of his other plays including "What's Done in The Dark", "Why Did I Get Married?" and "Madea's Family Christmas". Her additional stage work includes leading roles in the plays "The Mountaintop", "Church Girl", the musical "I Dream" (in which she portrayed Mrs. Coretta Scott King) and "Dreamgirls", where she performed alongside the legendary Jennifer Holliday.
Demetria always makes time for her first love: music. In October 2017, she released her debut album Officially Yours, featuring the single Easy which was a top 5 hit on the Billboard and Urban AC radio charts. Demetria has opened on tour for R&B mainstays including Tyrese, BBD, Tank, and Fantasia. She received a 2017 NAACP Image Award nomination for Outstanding New Artist.
For Fun, Demetria loves spending time with her son, taking in a good movie, traveling and even painting art. She is very passionate about cancer research, due to her father, a cancer survivor. On top of that, she spends time in the women empowerment space, especially with young African American Women of Our Communities, which plays a big role in her life, sexual abuse, homelessness and Earth Awareness.
Follow: @demetria4real
Series Trailer: https://freeform.go.com/news/clips/motherland-fort-salem-series-premiere
Article and Interview by: Ash Said It® Daily
https://www.spreaker.com/user/ashsaidit/demetria-mckinney-talks-motherland-fort-